Article published 03.11.2021
Are you familiar with all the options that Google Shopping offers? Manage your advertising campaigns even more effectively - with the custom_label element, you can sort the assortment, for example, according to the seasonality of the goods. And that is more than convenient during the Christmas shopping spree. Let's take a look at this setting. It only takes a minute.
What is custom_label
Google allows you to create up to 5 custom labels for each product. How does it work? Add unique information to the product in the Google feed that the customer can't see anywhere. You can sort your assortment according to specific attributes. For example, according to PNO, seasonality of goods, margin, or best-selling products. You'll then set up your campaigns based on the labels you've added, not only for Google Shopping but also for Google Ads.
How do you add custom_label to Mergado?
1. In Mergado, create a new element named g:custom_label_0.

2. Use the Rewrite rule to fill in the required values. You can fill the label with the values ​​of the corresponding element from the original feed. Or create product queries based on the rules, which you can then manually fill with specific values ​​in the Rewrite rule.
Alternatively, use the Import data file rule, which you use to pair values ​​from an external CSV file to specific products.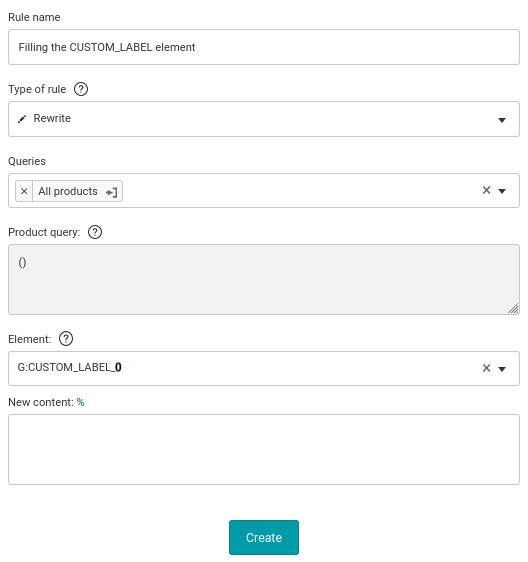 Practical use at Google Shopping
When advertising products through Google Ads campaigns, use your labels to group products for reporting and bidding purposes.
Attributes of custom labels are numbered 0-4:
Custom Label 0 [custom_label_0]
Custom Label 1 [custom_label_1]
Custom Label 2 [custom_label_2]
Custom Label 3 [custom_label_3]
Custom Label 4 [custom_label_4]
For each product, you can use only one label, such as "discount", for one attribute (custom label 0 [custom_label_0]). To add more labels, choose additional custom label attributes.
Examples and definitions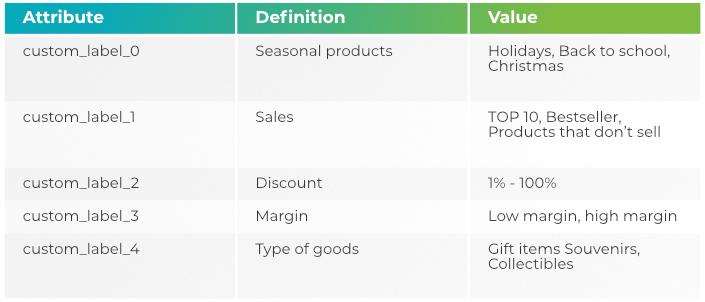 Keep an overview of your assortment and achieve the best possible results with simple tasks.
Read more: