Our team is continuously working on enriching Mergado with functions that will ease your life. One of such innovations is a new rule applicable to data feed import. Learn more about it from today's article!
Hot tweak
Summer has been busy for the Mergado team. Within multiple news are new sheet tracing updates the products as well as new rule enabling data feed import. Now you can not only track which rules have been applied to which products but also update elements of these products using CSV file.
CSV requirements to enable data feed amendment:
to be coded in UTF-8,
field's separator MUST BE marked with a coma and values MUST be in quotation marks,
MUSTN'T exceed the size of 25 MB but can include unlimited amount of lines and rows.
Structure of the column in the file
The first column is the so-called pairing element/field and the first raw of the first column (equivalent to field A1 in Excel, Libre or Open Calc) defines matching element / field.
It can be any element of current export or special field: xid defining internal element in Mergado and it defines the values pairing values
Starting with second column fields definie names of the existing elelemnts that will be amended accordingly to the other lines in the CSV file.
Should any column include non-existing elelement or any line include blank field they will be ignored. Following that, if you want not to change elements, ensure they are ignored.
Pairing modes
1. exact match
Changes are made to products, that first row in CSV file exactly matches the value of the matching item (that is, the item that specifies the data file in cell A1).
Please be aware that you can set whether pairing is case-sensitive or not. This mode can be configured in rule settings.
If a file defines multiple lines with the same pairing value, the lowest line is always the most important, as the lines further down the file replace the previous ones.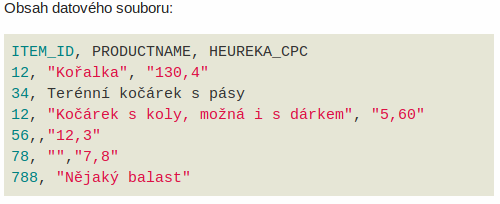 2. Partial match
Applicable if the value of the matching element (specified in cell A1 of the CSV file) only partially contains the value matching the first column.
Please be aware that you can set whether pairing is case-sensitive or not. This mode can be configured in rule settings.
Also note, that the top row has causative power for partial mode. If a product is paired with a specific row in the data file, all additional rows are skipped.

3. Special matching mode according to Mergado internal product identifier
This mode cannot be enabled in the Rules menu, but it is automatically enabled when the data file defines a pairing field with the value: xid. User settings in this pairing mode are ignored and pairing is enabled accordingly to the internal ID /: xid element in Mergado.
In this mode, the first column is the resulting one and will define the: xid field for each product.
If you open this file in Excel, Libre / OpenOffice Calc, you can easily make changes manually for each product.
Should you use the edited file in the rule, the changes will be represented by a specific aggregate rule that you can directly pause, move or delete.
The updates to the Mergado tool are being introduced regularly. Our aim is to help you inyour day to day tasks. Should you have any question in regards to Data Import File rule or any otehrs, let us know in the comments below.
Read more: