Article published 17.03.2021
Do you sell through WooCommerce or PrestaShop on the Hungarian comparison engine Árukereső? Join the customer review gathering program here. It will give you a better insight into how to improve your advertising. If you use th Mergado Pack, you can easily activate the Trusted Shop function.

Get your goods in front of Hungarian customers
The Trusted Shop function (Kiemelt ajánlatok) allows you to gather customer reviews on Árukereső. After activating the function in the Mergado Pack module, your store will send information about orders to the comparison site. It will send customer review questionnaires based on this information then. Of course, your customer may refuse to participate. The module adds an opt-out consent to the last step of the order.
The customer must therefore tick that he does not agree with sending the questionnaire. Thanks to the Mergado Pack, you can also activate the Trusted Shop widget (similar to Verified Customers) on your website and adjust its position and behavior.
The widget will not work until the conditions are met:
Version with a "green frame" - in 60 days you must receive at least 10 reviews, the rating of which does not fall below 4.2.
Version with a "green background" - in 60 days you must get at least 60 reviews, the rating of which does not fall below 4.6.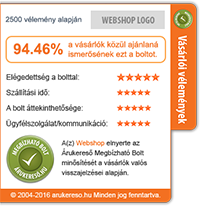 How to implement the Árukereső Trusted Shop function
NOTE: The entire administration environment is only in Hungarian. We use Google Translator for the English translation. Therefore, some translations may be slightly inaccurate.
Do not hesitate to advertise on Árukereső. Although the business environment is strict in Hungary, it is used by more and more foreign e-shops. With Mergado, you can set up advertising yourself. And Mergado Pack easily connects your stores on e-commerce platforms with major comparison engines.
Read more: