Article published 02.12.2020
In recent years, the Slovak online market has grown strong on the map of European e-commerce. Thanks to the low costs of online store administration and the fast growth rate, which rose to 16% year-on-year, it is the target of foreign merchants. Use its potential and start a business in Slovakia.
Get to know the characteristics of the Slovak online market
Slovakia is a smaller Central European country, but with the significant growth of e-commerce, it competes with many large European countries. The year 2019 brought a turnover from online sales exceeding 1.3 billion euros, and the outlook for 2020 is even more favorable. The advantage for shoppers from abroad is not only economic growth, but also the long-established euro and a wide logistics network between the largest cities of Bratislava and Košice.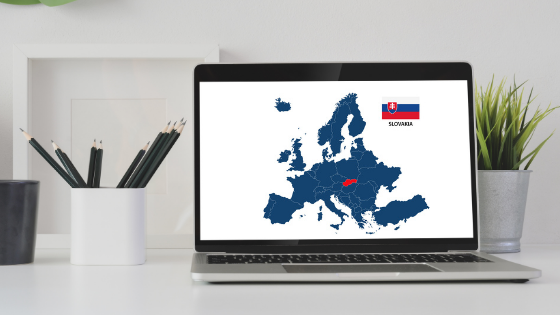 The power of e-commerce in Slovakia
Retailers and brands entering the Slovak e-commerce scene must be sure that they understand the specific mentality of domestic customers. Slovakia currently has over 5.4 million inhabitants, among whom an interest in online shopping is still growing. In 2019, up to 6 out of 10 online store visitors made a purchase.
The share of shoppers will also increase the impact of the Covid-19 pandemic this year. State measures and quarantine have shifted customer attention from brick-and-mortar stores to online ones and increased their traffic. Marek Ivančík, a PPC specialist from the Basta digital agency, also monitors this development:
"The popularity of online shopping is getting stronger every year. The unpredictable situation with coronavirus intensified this trend. We recorded a significant increase in turnover, especially during the first wave when the stone shops were closed. The main e-commerce events of the year are Christmas. For most clients, pre-Christmas shopping starts every year, which we try to respond to. In Slovakia, price is still an important factor in purchasing decisions during Christmas."
The credibility of online stores is high in Slovakia, but a frequent obstacle to online shopping is the strength of the habit of trying out goods in person. Provide them with a comparable shopping experience and impress them with free shipping and price benefits they won't find in brick-and-mortar stores. So what to focus on in Slovak e-commerce?
PPC specialist Libor Toporcer from the Invelity agency advises to follow customer preferences.
"The Slovak market is characterized by the fact that users like to shop online. They often use mobile devices, which have become more popular this year than computers or tablets. When deciding on a purchase, the Slovak customers are more rational than the surrounding countries. We also see a trend of repetitive shopping in one online store. Therefore it is important to pay attention to building the so-called Customer lifetime value."
What is the shopping behavior of Slovaks?
Up to 90% of consumers shop regularly and repeatedly at Slovak online stores.
Business optimization for mobile devices is important for successful expansion to Slovakia. As many as 65% of Slovaks shop using a smartphone, which mainly means saving time. Adapt to their needs and think of it when creating a new domain.
The key factor in online shopping is the price for Slovaks. Up to 59% of customers decide according to whether the store offer is advantageous for them.
30% of Slovak customers leave the site if they do not see their goods in stock or are unavailable for a long time.
As many as 63% of customers in Slovakia prefer to choose products and services that save the environment, and 48% of customers are willing to pay extra for such goods. Get consumers whose purchasing decisions are influenced by environmental issues and include greener packaging or shipping practices in your plan.
The loyalty program of the store is used by only 10% of customers. Get the most out of this hidden advantage over the competition and provide store visitors with reasons for repeated purchases, such as discounts or gifts.
Negative comment or review discourages 83% of customers from buying online. Take care of your good name and use social networks, where over 80% of Slovaks spend their time daily.
The popular assortment holds a position on Slovak online stores
In Slovakia, purchasers choose goods daily at more than 12,600 shops. And that number will grow by the end of 2020. PPC specialist Marek Ivančík also recorded a significant transition to the online sphere:
"Sellers running brick-and-mortar stores are placing increasing emphasis on the online environment. Their websites are adapted to current trends, and more and more of them also start to use comparison engines. From a long-term perspective, we see a trend of transition to online store even in unusual segments, where together with clients we try to change shopping behavior and especially simplify the shopping process."
The most popular segments among customers in Slovakia are clothing, cosmetics, and footwear. Electronics, books, and furniture also have a high share of total purchases on the Internet. Last year, food, drink, and alcohol were the least bought via the Internet.
Through pandemic regulations in 2020, online purchases of food, orders for medicines and drugstores, assortment for hobbies, and non-traditional segments such as air conditioning, sewing machines, and webcams skyrocketed. In March, the strongest comparison engine in Slovakia, Heureka, recorded year-on-year e-commerce growth of over 50%.
Bet on the most used shipping and payment methods
The most popular payment method in Slovakia is still cash on delivery, which is preferred by up to two thirds of shoppers. Online payment by credit card or bank transfer slowly catch up with it.
From the shopper's point of view, the choice of a payment gateway is important. Slovak e-commerce consists of domestic companies, proven global platforms, and payment gateways of individual banks.
For Slovak customers, convenience wins when shopping. Over 83% of online shoppers choose home delivery of packages. It is followed by delivery to the post office, gathering of a consignment at work, and the use of a pick-up point is becoming increasingly popular. However, less than half of the customers leave the shopping cart before ordering goods due to insufficient shipping options. Therefore, the flexibility of an online store and a wide range of shipping methods are also crucial.
Not sure how to set up the traffic for comparison engines and advertising systems? Rely on Mergado to set this up in a few clicks.
Which shipping methods are most popular in Slovakia?
1. Slovak postal service
The frequent method of shipping in Slovakia mainly benefits from an extensive network of branches. The advantage is the possibility of cash on delivery and payment in advance. Customers are used to the services of Slovenská pošta and its operation. Therefore you should not neglect this option on your online store.
2. Courier companies
Another popular option is courier companies. The most common ones are DPD, Geis Parcel, GLS, or DHL. Slovaks like to choose from several alternatives for parcel delivery, appreciate the modern system of notifications or data modifications, and delivery on the day of the order. Meet requests of potential customers and adapt to them when choosing a courier company.
3. Personal pick up at the store or in the self-service box
The combination of an online store and a stone shop represents a competitive advantage, especially for customers who do not want to pay for shipping. It is also possible to pick up packages in a self-service box, which people are currently looking for due to the contactless and safe gathering of the shipment.
4. Zásilkovna and Uloženka
The network of Zásilkovna pick-up points covers most large cities in Slovakia. Customers prefer this method more and more often - they can pick up the package at any time, and its prices are comparable to Slovenská pošta. Uloženka works similarly and provides logistics services for online stores. Its advantage is the connection of services with Slovenská pošta, Česká pošta, and DPD.
Aim for popular comparison engines
Comparison engines are very popular in Slovakia as supporting marketing channels. The first steps of a foreign online store should therefore lead here. The PTAgroup agency confirms it.
"When entering the Slovak market with an online store, we consider comparison engines to be one of the key performance channels, especially for unknown brands. It will give them relatively high, cheap, and relevant traffic, as well as another channel where the target group can get acquainted with their brand."
What does Basta digital advise you to check if you are going to advertise on comparison engines?
consistency of data in the product feed (correctly filled in PRODUCTNAME, DESCRIPTION, product variants, alternative product images)
existing product categories for the products
competition in relevant categories
price competitiveness, sufficient competitiveness in the availability and length of delivery of goods
For an error-free start on comparison engines, you need an XML file in the required format. Not sure if it will meet the requirements of the platform? Check its status with our free feed audit. You will get a complete analysis and recommendations on how to fix it with Mergado.
Several top comparison engines offer their services in Slovakia. Where should the first steps of your store lead to? PPC specialist Marek Ivančík advises:
"Addressing comparison engines depends on the product portfolio. We would recommend testing several Slovak engines. From more general ones such as Heureka.sk, Pricemania.sk, to more specific ones such as GLAMI, Favi, and Biano. We would recommend collecting feedback from customers, which helps build the credibility of the store (Verified by customers, GLAMI TOP)."
Heureka
Heureka is a universal comparison engine and the number one among both consumers and online stores in Slovakia. In its portfolio, you can find a wide range of products and brands from thousands of stores. When shopping, users follow reviews from other customers, evaluations of the availability of goods, and the price of transport. A shop with the Verified by Customers badge will gain an advantage over the competition, which is a guarantee of quality and advantageous offer.
With the help of Mergado, you can set up advertising for the Slovak Heureka yourself and automate many tasks such as product pairing, bidding, or pricing.
NajNakup
NajNakup is the second most popular comparison engine in Slovakia and covers a wide range of products from more than 8,000 online store. It focuses on finding the best product price on the market. The participating merchants are offered with the "Best Buy - Recommended Customer Store" certificate, which is issued on positive reviews from customers who have already purchased.
Pricemania
Pricemania is another large comparison engine on the Slovak e-commerce scene. In its portfolio, it has a choice of over 800,000 products in categories such as electronics, clothing, cosmetics, and food. Advertising stores can obtain a Verified Store certificate, which represents long-term positively rated merchants.
GLAMI
The international GLAMI engine, which you can find in 17 other countries in addition to Slovakia, specializes primarily in fashion and accessories. Consumers use it to find advantageous prices and buy clothes. Of its services, the engine offers the GLAMI TOP loyalty program, which helps stores to make brands visible.
If you are already advertising on this comparison engine, expansion to its Slovak version is simple. All you need is an XML feed in English. Mergado will get it to 100% condition.
Favi
In the catalog of the Favi, the customer can find goods from the furniture, decoration, and bathroom and garden assortment segments. It has been operating in Slovakia since 2016 and cooperates with more than 600 stores. Merchants can collect reviews from shoppers that improve the overall impression of the brand and products. If you sell this type of goods, advertising on Favi is more than on the spot.
Biano
The specialized comparison engine Biano focuses on the categories of housing, accessories, and equipment for reconstruction. In addition to a wide selection, it provides shoppers with advice and tips from interior designers and architects. At Biano, customers will not only find inspiration but will also buy the product immediately.
ShopAlike
The European ShopAlike operates in 13 European countries, including Slovakia. It thus offers pan-European coverage and opportunities for easy expansion. In its offer, the customer can find furniture, clothing, and accessories.
Joining ShopAlike is easy - we have tips for you on how to do it.
Since 2019, Slovak sellers have been able to use Google Shopping. It is a very effective form of promotion, which shoppers often use. Mergado fully supports it.
Take advantage of tips from experts in Slovak e-commerce
How is Slovakia doing compared to neighboring countries? What should a foreign online store prepare for if it wants to enter the Slovak market? Specialists from the Basta digital agency notice differences, especially between the Czech Republic, Poland, and Hungary.
"Although the market in the Czech Republic is very similar to ours, the differences compared to our neighbors are noticeable. Czech e-commerce is significantly more developed than ours. There are more competitors, and it is more difficult to achieve the desired results. Cash on delivery is a mandatory ride for this market. On the contrary, in Hungary, you will find several opportunities to do business. Advertising on the market is still cheap. In some segments, you need to create a trusted page. But watch out for communication. Hungarians are patriots, and their trust in foreign e-shops is low. Slovaks, on the other hand, are very sensitive to price and like fast delivery methods or personal collection. Also, they respond very positively to customer service in segments such as fashion."
PPC specialist Libor Toporcer from the Invelity agency sees potential in the Slovak market.
"Compared to neighboring countries such as the Czechia, Poland, or Hungary, customers are not so strictly dependent on the price of products when making decisions. They consider several factors - experience with the store, reviews, or the speed of delivery. When starting marketing activities in Slovakia, count on building brand awareness. Among other things, references make a strong weight. Heureka Verified by customers, a profile on Google My Business or references on a Facebook fan page are most often used to obtain."
Experts from the PTAgroup have many years of experience with expansion and recommend retailers to adapt it to domestic consumers as much as possible.
"Among the key things when entering any new market, we include a localized version of the store, ideally also support, popular payment, and transport options. We also recommend launching at least basic performance channels using a product feed (Google Shopping, comparison engines, social networks like Facebook and Instagram)."
Summary
The development of Slovak e-commerce follows the worldwide popularity of Internet sales and also affects traders from abroad.
The convenience of online shopping is going to be enjoyed in Slovakia by more and more people who are not afraid to try new technologies and pay extra for products without an environmental burden.
However, a typical Slovak customer looks first at the price tag, then at the carrier, and in the end, he is lured by the added value in the form of a discount.
When expanding, do not forget the current survey of the domestic market, the shopping behavior of the population, and the legislation of the country.
Use comparison engines for start-up and advanced business and entrust the setting of the feed to Mergado, which will tune it into perfect form.
Try Mergado for 30 days for free.

Read more: