Article published 15.04.2020
In Mergado, you manage advertising on comparison engines by creating exports in which you edit data. If you have multiple exports and make some changes repeatedly in each export, you can make the process more efficient by creating a master feed. Let's show you how to set it up.
Make general feed edits at once
Having a master feed in Mergado means making a "major" export and then creating "smaller" exports from its output URL. Master export makes it easy to set up general and basic data edits.
You can also combine both ways to edit your data. Of course, you may also correct your store feeds with queries and rules as you are used to.
What is the master feed scheme in Mergado
Benefits of a master feed
there is no need to make the same changes in individual exports
you can make changes quickly, easily, and without having to repeat the action on the remaining smaller exports
possibility to combine export from the master feed with an export from feed generated directly from an online store
Disadvantages of master feed
it is an extra export, so you will have more products in output which can affect the price of using Mergado
the data going through the master export slows down the process

Get a complete overview of exports you created from the master feed in Mergado. In the Settings section and on the General settings subpage, you find an arrow behind the output file address, where you can find all exports created from the master feed.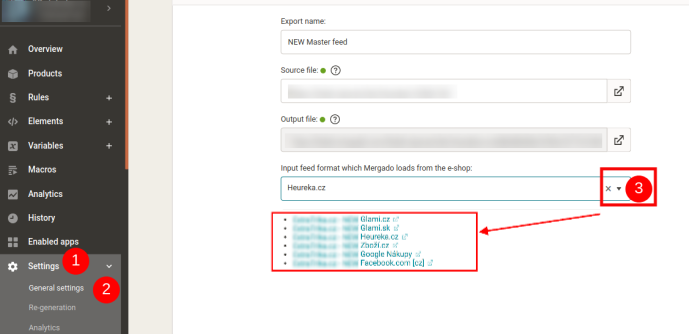 In the same way (in the Settings menu and the General settings subpage), you can also click the arrow symbol in individual exports. There, you find the source from which the export is created. From the master export, you can easily click through to the smaller export and vice versa.
Using a master feed and individual exports can save you a lot of work. You will make it easy for you to edit data and target with your store directly to a specific comparison engine.
You may be interested in: