The previous two parts of the FAQ series have summarized the essential questions about feed regeneration and billing. In the third part, we'll answer your questions about payments for Mergado, tariffs, and discounts offered.
Answers to the most common questions on how to pay for Mergado
Yes, there is a 30-day free trial for new users. After that, Mergado automatically switches to paid mode. If you delete all test data by the end of the trial period, you will not receive an invoice. You can delete exports (in Export settings -> delete export), as well as the entire store (in E-shop settings ->, Delete online store -> Delete all its exports). Before the end of the trial period, the user receives an informational e-mail.
Yes, when paying for 6 months, the discount is 10%, and when paying for 12 months, it is 20%.
Currently only by bank transfer. We plan payments by card in the future.
In your billing information settings, at the bottom of the page: https://accounts.mergado.com/settings2/.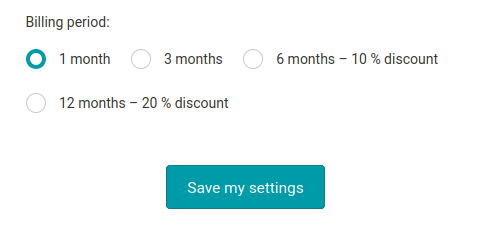 Any changes will be reflected in newly issued invoices. If you need to change your billing information on an already issued invoice (PROFORM), please contact our support.
The tariff increase is carried out automatically if the number of store's products at the output in Mergado belongs to the higher tariff. To reduce the tariff (if the number of products leaving Mergado declines and the store would belong to the lower tariff), contact our support.
We use the overpayment for a future billing period or send money back. All you need to do is write a refund request to our support.
We have summerized the most important points about paying for Mergado. If you have further questions, contact or support.
You could be interested in: