Article published 22.09.2021
Is your online store successful in the domestic market, and are you considering where to expand? In recent years, experts have recommended Croatian e-commerce. One of the major comparison engines you should focus on here is Nabava. Let's introduce the most traditional one.
Nabava guarantees tradition and credibility
Nabava was established in Croatia in 2001. Originally it used to be an online store with computer components. But with a growing offer turned into a "Price comparison service." This oldest Croatian comparison portal launched a mobile application in 2016, and at the same time, expanded to Slovenia (Pametno.si) a Serbia (Pametno.rs).
The monthly traffic of Nabava is 500 thousand unique visitors, who make 2.6 million page views per month. According to Similar Web, this is the 98th most visited site in Croatia. In the Price Comparison in Croatia category, it is in third place behind the Pevex.hr store.
Only 300 online stores advertise on Nabava. Compare the number of stores advertising here with the number of stores on Google. It is a real opportunity to breakthrough. What do you say?
Nabava offers four ways to promote your product or brand
1. The first of the promotion options is the classic display of products in product cards. You pay for clicks to your website, and at the first registration, you will receive HRK 500 for advertising (approx. EUR 66). You can check the success of your advertising in the Bidding interface. The data dashboard shows product success, credit status, and click prices.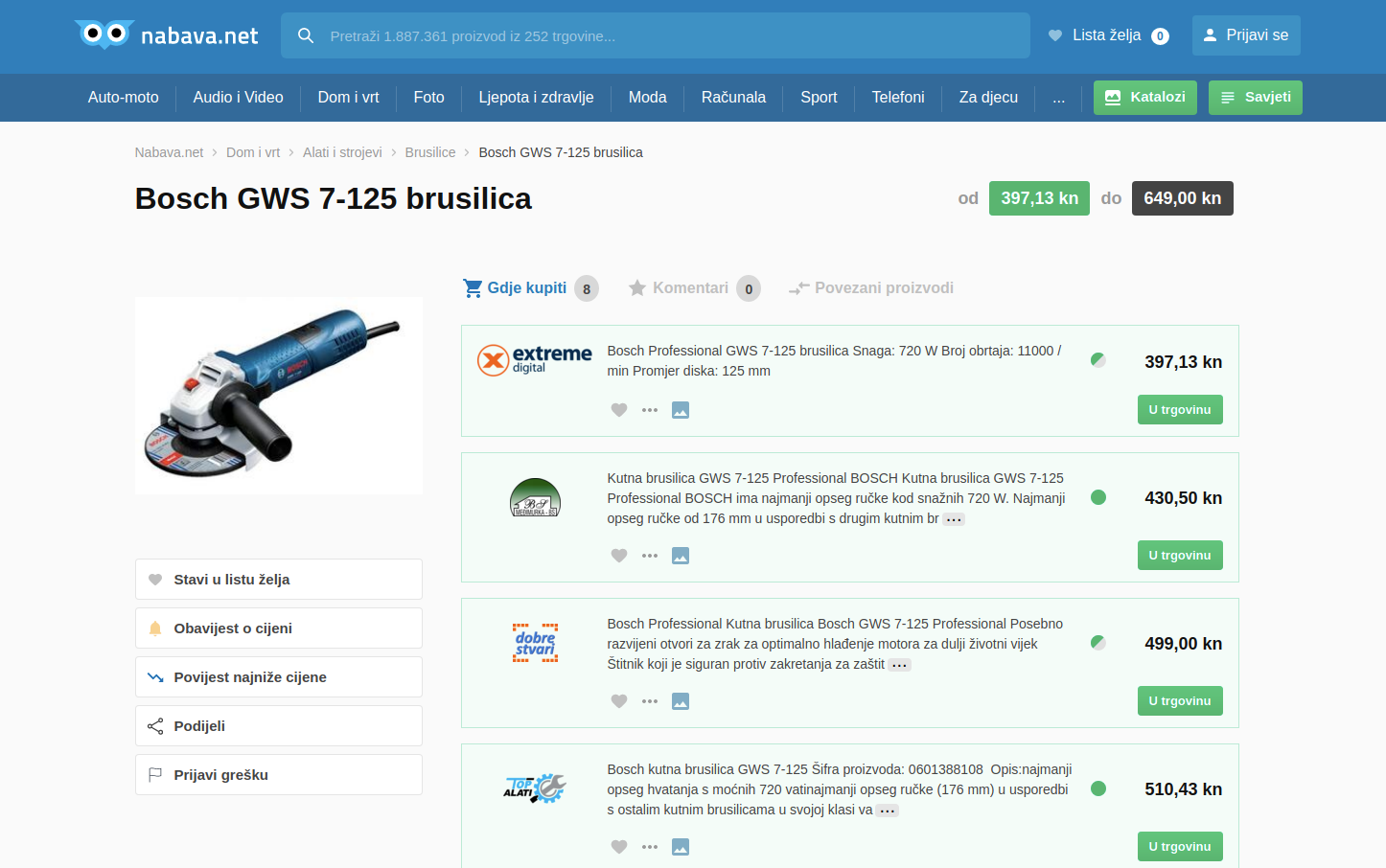 2. The second option is banner areas. You can use them even if you do not advertise on Nabava. The price of placing the banner directly on the main page of Nabava is 30% more expensive than the basic rate. For advertising in banner areas, contact Nabava support. Remember that you must supply the materials in the required dimensions.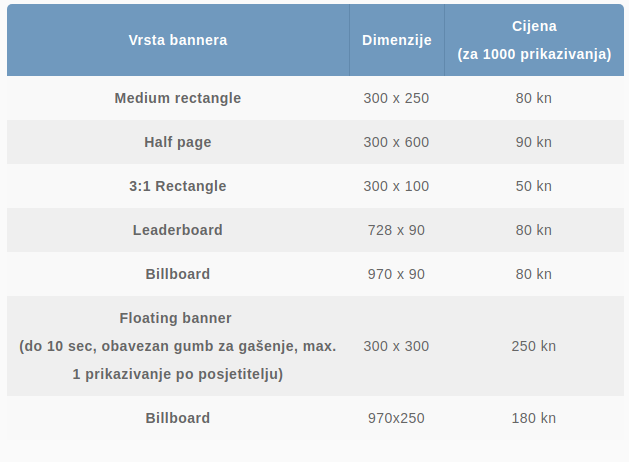 Banner prices are per thousand impressions, and the minimum possible order for advertising space is five thousand impressions.
Nabava also offers a system of discounts:
20% discount for agencies.
15% and 10% discount on the first advertisement and subscription to the service.
You can get additional discounts on banner areas by promoting goods you are also advertising on Nabava. In this case, the discount for standard advertising is 20% and 30% for the premium version.
3. Other ways to make your products visible are the first positions on the main page and in the categories. Products appear in the first position in product lists. In the categories, the highest price is HRK 70 / 1000 impressions (approx. EUR 9).
You set up this type of advertising yourself in the Nabava interface:
In the left menu below, click "Sponsored products."
Select the category in which you want to advertise your product.
Set the period during which you want to advertise.
A new window will appear where you can insert a picture of the product and a link to it.
Click Save, and it is done.
Attention! You can select the date from which you want to advertise only once. Nabava no longer allows to change it.
You can also set the promo products on the main page of Nabava yourself. You must agree on prices directly with the support, who will create a calculation based on discounts.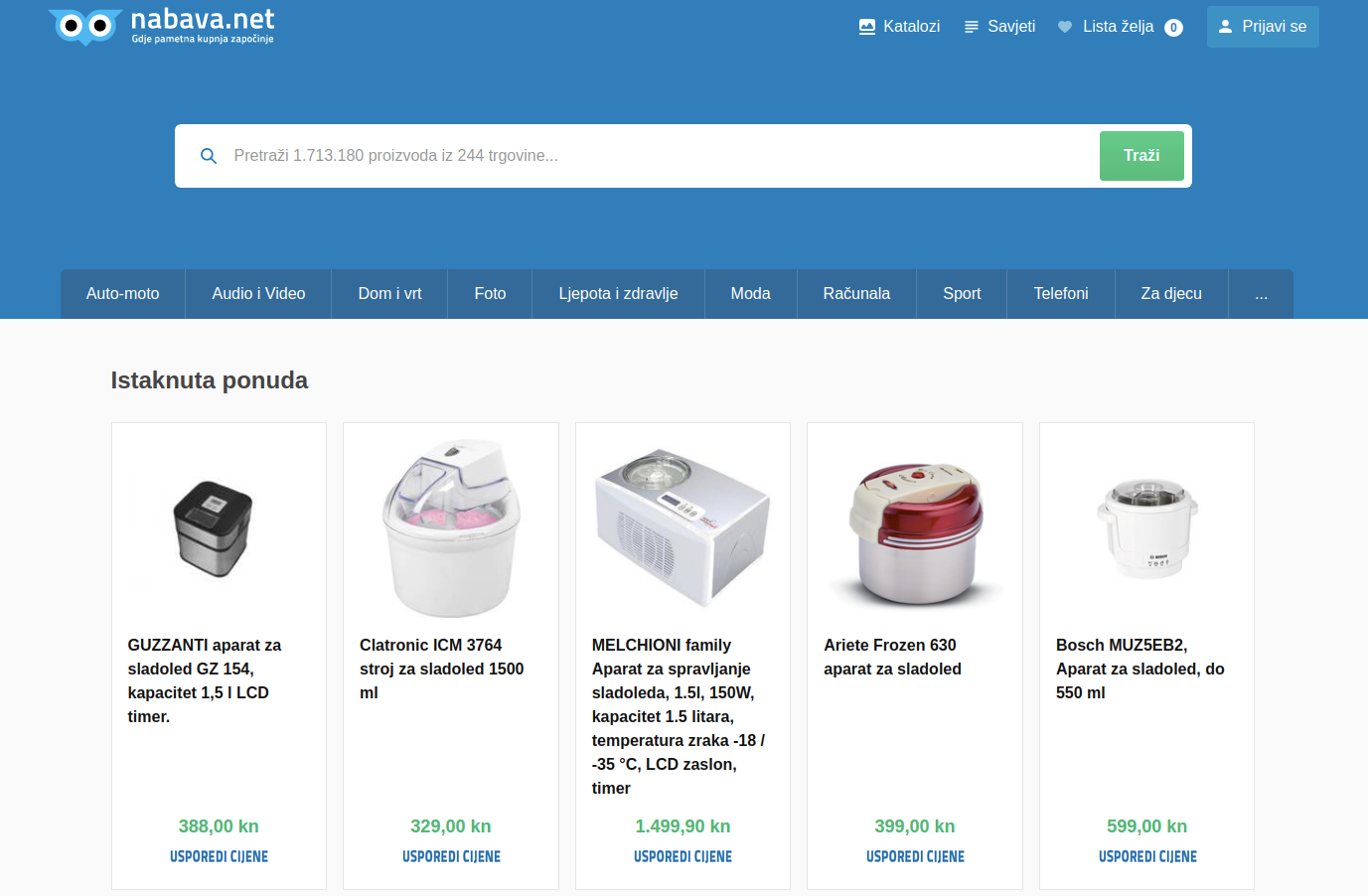 4. The last way of promotion on Nabava is the use of a PR combo box. It is primarily a promo article that appears in the Articles section. It is visible on the main page and in the mobile application for seven days, and Nabava also adds it to the newsletter (about seven thousand subscribers). From social networks, the article will appear on Facebook and Twitter. The price is based on HRK 1500 (approx. EUR 197).
When you have a feed for Nabava ready, try advertising in Slovenia. In terms of shipping options and administration, this country is similar to the Croatian market. Or try advertising in all three states where Nabava operates to see where you're doing best.
With Mergado, you can set up advertising for major Croatian formats yourself
Are you considering expanding to the Croatian online market? With Mergado, you can convert the formats you use to the ones you currently need. With our virtual administrator, you can automatically manage data feeds. In Mergado, you can manage store advertising yourself. It will speed up daily marketing tasks and save costs for the work of programmers.
Need to translate feeds into Croatian? With the Translating Parrot app, you can do it in a few clicks.

Don't be afraid to expand to other countries. You will test the competitiveness and interest in your goods with new customers on comparison engines. Their advantage is also the option to gather reviews. You can get them in the local language before launching a new version of your online store. They strengthen the credibility of a brand that is coming to a new market.
Read more: